Description
Digital mixing has revolutionized virtually everything in the live- entertainment production workflow. Now we've come up with the perfect solution for connecting the onstage talent with your Front of House (FOH) console, and the rest of the world – the ultra-cool and ultra- affordable SD16 Stage Box! The SD16 provides 16 MIDAS-designed remote- controllable mic preamps, 8 balanced analog XLR returns at the stage end, plus an integrated 4-port ULTRANET distribution hub for direct connection to our P16-M personal monitor mixers – without any additional hardware required. Plus, the SD16 is extremely compact and comes with rugged protective bumpers, so you can toss them directly on stage wherever you need them. The best part – all it takes is a single shielded CAT5e cable per stage box (up to 330 ft / 100 m length). And If you need more inputs, or just want to keep your cable runs short and tidy, putting an SD16 at stage front and another behind the drum riser gives you an additional 16 inputs for drum and guitar/bass amp mic'ing. When used as part of a complete X32 system, as many as three SD16 Stage Boxes can be cascaded via the built-in AES50 ports to provide up to 48 bidirectional inputs and 24 balanced XLR outputs. An onboard ULTRANET distribution hub provides power and 16 channels of audio to 4 BEHRINGER POWERPLAY P16-M personal monitor mixers per SD16, all via inexpensive shielded CAT5e cabling – and without any additional hardware. Two of the programmable inputs are also compatible with Hi-Z sources, so you can connect keyboards, acoustic and bass guitars, etc., with no DI box required. The SD16 also features a USB port for fast and easy system updates via your PC.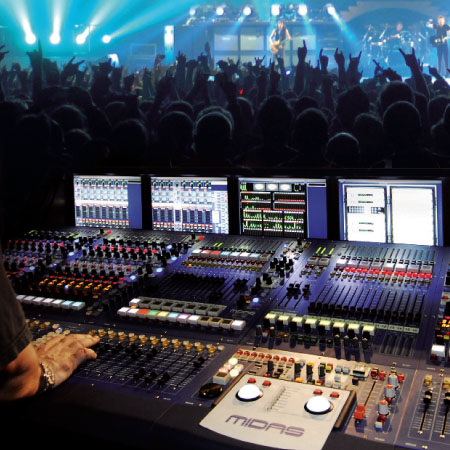 MIDAS – The Legend in Sound Quality
Ever since its formation in the 1970s, MIDAS has had a long history of innovation and leadership in the world of audio mixing consoles. Employed by the most famous touring acts and installations world-wide, legendary MIDAS consoles such as the XL4 and Heritage H3000 quickly became industry standards. MIDAS has earned their impeccable reputation due to their no-compromise approach for audio and build quality and in particular for their Award-winning Mic Preamps which are considered by industry experts as the industry's best sounding designs. Building on this legacy, the XL8 and PRO Series of Live Mixing Systems continue this great heritage of Award-winning audio quality. BEHRINGER is proud to incorporate MIDAS designed mic preamps for the ultimate in high-quality audio reproduction in both live and studio environments. Find out more about MIDAS' amazing legacy by visiting their extensive website.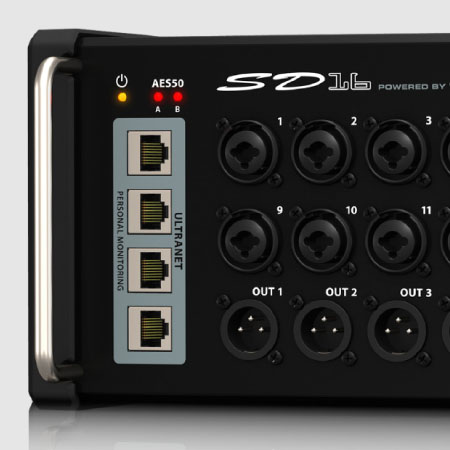 Remotely Controllable Preamps Make Setup a Breeze
The SD16 Stage Box is a studio/live sound engineer's dream come true. Setup is extremely easy, with virtually all parameter control taking place at the console – including the award-winning MIDAS-designed mic preamps, +48 V phantom power, destination routing, etc. Just put the SD16 where you want it, run a few Cat 5e, mic and instrument cables – and head for the console. The SD16 makes setting the stage up virtually foolproof!